Le Victoria 1836
A table with a view
With its large windows and magnificent view of the Arc de Triomphe, Victoria 1836 is keeping up with the fame of its neighbour by gathering talented chefs and designers. Business breakfast, romantic dinner, hanging out with friends or festive entr'acte before starting the night: Victoria 1836 opens itself to all tastes and refuses to adopt one single style.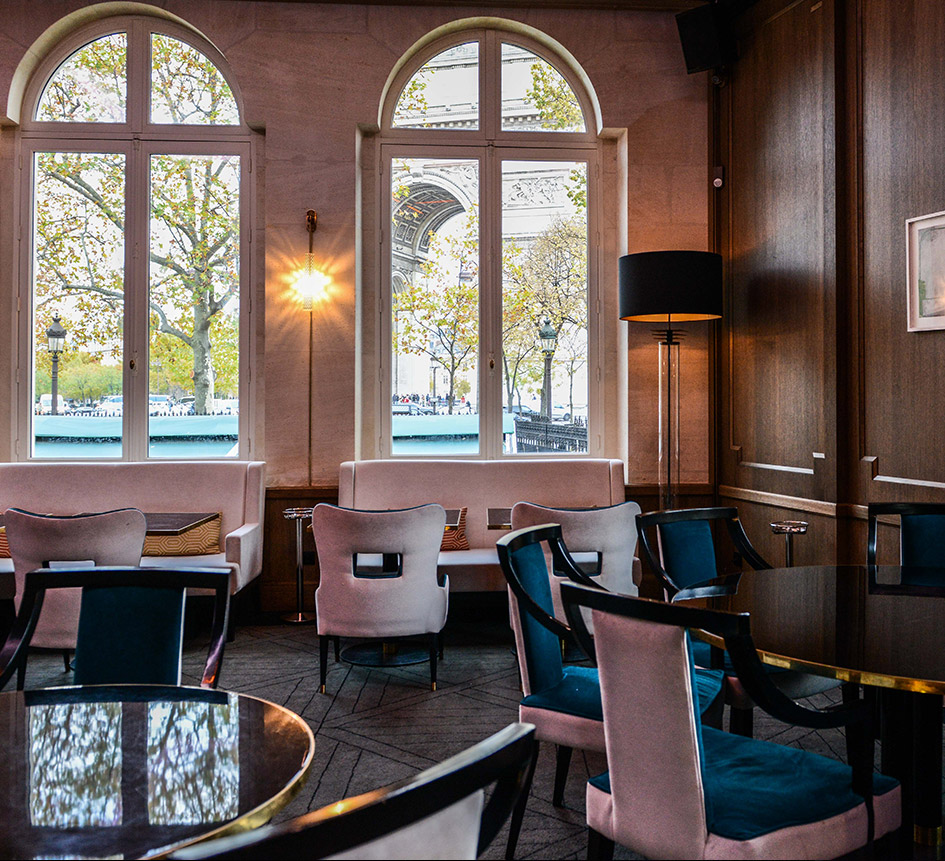 DESIGN BY SARAH LAVOINE
When asked to define Victoria 1836's mood and personality, Sarah Lavoine, a constant Moma collaborator, answers without blinking: "timeless, refined, warm, full of light, I wanted people to feel good". She adds immediately: "we used beautiful materials, to live up to the heights of the contemporary Parisian style: velvet seats, brass for the lightning installations, mirror plays, Saint Laurent marble, a porcelain moucharaby…" She carefully avoided the trap of the short-lived trends, in order to stay true to the soul of this private hotel. The 14 windows with a view on the Arc de Triomphe look like paintings on a wall wide open towards the sunny Place de l'Etoile. A discrete library offers a quiet and cosy alcove to those seeking for some privacy.
THE TABLE
Victoria 1836 deploys the art de vivre from breakfast to dinner, from the morning coffee to the late dinners. The restaurant is a true living space in the very heart of Paris. Elegant, exigent and casual in the meantime, this place looks like a present-day brewery that finds inspiration in the latest trends and then transforms them into timeless bourgeois courses. Cod hot pot with lemongrass, Challans chicken supreme with its smooth purée, lightly grilled veal chops, Kaspia-created pastries and fruit carpaccio: a marvellous assortment, to say the least.
THE BAR
The cocktails selection, signed by Chivas and Victoria, go side by side with a gourmet menu: Kaspia tarama, chef's foie gras, Belotta Iberian ham. A stylish way to accompany both intimate and festive moments, while enjoying one of the most beautiful views over Paris. The subtle piano notes amplify the magic.
MOMA GROUP
11 bis avenue Victor Hugo, 75116 Paris